General Information 
Name Pronunciation
Whay-mahn
Name Origin
Wei - A rank of company-grade officers in the Chinese military.
Level
Rookie(Child)
Attribute
Vaccine
Type 
Beast
Field
Nature Spirits
Height
4'5"
Weight
155lbs
Human Partner
Jett
Evolution Line
Puffmon > Weimon > Keracomon > ? > ?
››››››››››››››››››››››››››››››››››››››››››››››››››››››››››››››››››

Personality
Weimon is a mon of few words, at first glance. He is incredibly quiet and reserved, and tends to observe, rather than interact. This isn't because he's arrogant, or rude, or otherwise anti-social. He is actually quite shy. Weimon strives to earn the approval of those around him, and will go well out of his way to make sure they are safe, and even happy often times. This is especially true for Jett.
Weimon forms bonds with others very quickly, even if he doesn't outwardly show it. Simply watching, and Weimon feels a connection to them. He usually doesn't interact, directly, though he makes a few exceptions when he's in a particularly good mood.  
Weimon also has a number of emotions, which he is unable to control, much to his dismay. He tends to become quite reckless, and hot-headed especially when agitated. He also takes losses very hard. The difference in his composure while happy, versus upset or sad, is highly noticeable, even if he tries to hide it. When he's in a good/neutral mood, he appears passive and cool. Whereas when he's in a bad mood, he is much more rigid, jumpy, and tends to pace a lot. 
Profile Information
Weimon are, by nature, travelling digimon that move throughout the digital world to explore and enhance their knowledge. Weimon are highly curious individuals, finding the act of studying others to be one of their favorite pass times. Many of the species are quite young-spirited, and despite their outwardly rough appearance, are actually very gentle and quite shy. Weimon have a fascination for clothing, specifically cloaks, as to help hide their features from others. Weimon do not normally fight, but if cornered, they are very fierce. Their skills lie in lightning-based attacks, and a number of swift, ninja-like actions. They are skilled with stealth and quick movements.
Attacks

Shock Ball  - Weimon creates an orb of pure, electrical energy in his palm. He can either throw this, or use it to enhance his hand-based attacks.
Lightning Kick  - Electricity covers Weimon's foot, and he dives in, delivering a powerful kick to his enemy at an incredible speed.
Shroud - Weimon covers himself in a dark cloud, before seemingly disappearing. He moves swiftly, going in for an attack at his enemy's back.
General Info Bits
Weimon has been travelling the digital world for the past 5 years, and is well versed in how a number of cities, specifically in the Popula and Glacia Continents, work. 
Weimon absolutely hates water, and will vehemently oppose going into it. He will travel over it, but getting wet is a major source of annoyance for him. 
Weimon's fur turns into a large puff when it dries, after being wet. 
Weimon loves bones, specifically to chew on them.
Weimon, despite being dog-like in his nature, is actually quite akin to using the mannerisms of a feline. He sleeps similar to a cat, and has a certain elegance that is comparable with that species as well. 
Weimon also has a few dog-like mannerisms too. He will pant when he's hot, and has been known to shake his leg if someone scratches his belly. 
Weimon, despite having cat-like tendencies, really doesn't like cats. He tends to growl at them(or cat like digimon), and be unfairly judgmental, though he never explains why.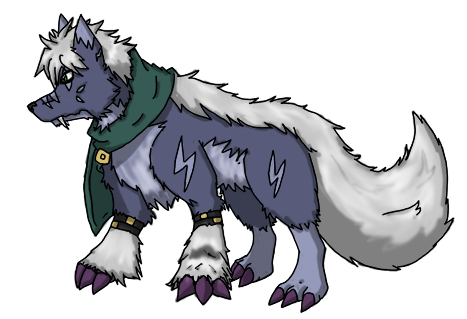 General Information 
Name Pronunciation
Ker-ah-koh-mahn
Name Origin
Keraco - From 'Keracoga', a mythical wolf dealing with the sky. 
Level
Champion(Adult)
Attribute
Vaccine
Type 
Beast
Field
Nature Spirits
Height
6'4"/ Nose-tail: 10'
Weight
224lbs
Evolution Line
Puffmon > Weimon > Keracomon > ? > ?
››››››››››››››››››››››››››››››››››››››››››››››››››››››››››››››››››

Personality
Keracomon, for the most part, is quite similar to Weimon in personality. He has a cool, collected demeanor. His emotions are far more in-check as his Champion level, versus his base level, but he is still liable to lose control in stressful situations. In short, he's basically a more matured version of Weimon, far more competent, and controlled in his actions. He is also much more skilled, and can come off as a bit more confident. 
Profile Information
Keracomon are mythical guardians of the sky, and call upon the power of storms to defeat their enemies. They are incredibly swift digimon, capable of ninja-like prowess on the battle field. Keracomon can run at incredibly high speeds, and their constantly-sparking coat of spiky fur makes most enemies keep their distance from them. Keracomon can strike and end an opponent in an extremely efficient manner.
Attacks

Volt  Charge - The constant, electrical field around Keracomon sparks more strongly, igniting him in blue, electric energy. He then charges an opponent, momentarily disappearing, before striking them head-on. 
Lightning Howl  - Howling to the sky above, Keracomon summons down a bolt of lightning to strike his enemy. The effectiveness of this is far greater during a thunder storm. 
Dynamic Beat - This attack allows Keracomon to close fairly great distances in an instant. He shoots forward in a blitz, before appearing over his enemy, or at his enemy's back. He drives his claws into them, sending a powerful shock-wave of electrical energy through them.
General Info Bits
Keracomon can control the intensity of his sparking fur, but at its lowest, most harmless stage, it will still give off a tingle to anyone that touches it. 
Keracomon retains the same cloak that Weimon wore. It acts as a reign for anyone that rides on his back. It can also be used in defensive maneuvers, though requires more precision, due to its small size.