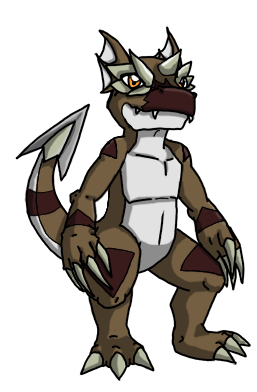 General Information 
Name Pronunciation
RAH-koo-mahn
Name Origin
Rakuuna - From the Finnish word for 'tarragon', a synonym of dragon.
Level
Rookie(Child)
Attribute
Vaccine
Type 
Dragon
Field
Dragon's Roar
Height
4'1"
Weight
170lbs
Human Partner
Tyson
Evolution Line
Marmon > Rakumon > Drakemon > ? >? 
››››››››››››››››››››››››››››››››››››››››››››››››››››››››››››››››››

Personality
Rakumon is a generally laid back digimon. He doesn't enjoy conflict, but is more than willing to fight in order to protect others. He takes a certain pride in his abilities, but ultimately remains humble. He is quite a polar opposite to Tyson, and prefers to think rather than to act. He is quite a wise digimon, and often tries to act as the hot-headed boy's conscious, though it usually doesn't work. Rakumon is not above having a few slips in his cool persona, and can get angry, or annoyed. He is not above arguing with Tyson, in a brotherly way, and will even go so far as to wrestle him if he gets annoyed enough.
Rakumon's a bit lazy, in reality, and would far prefer sleeping and eating to constant fighting. He goes well out of his way to ensure he gets a bite to eat, but isn't so selfish as to forget about others' needs. Most of the time. He will eat pretty much anything in front of him, and he will sleep for as long as possible, and even a little after that.  
While in battle, Rakumon will try to act enthused. Though, in the beginning, he isn't great at it. Tyson's hot-headed attitude does rub off on him a little bit, and he does eventually talk big in combat, egging on his opponents to make victory easier. Though, he is not the brains of combat, he leaves that to others more capable, Rakumon is more of a big-guy, willing to dish out punishment whenever necessary. He shows an incredible determination, matched possibly only by his partner. 
Profile Information
Rakumon are a race of Reptilian Digimon with incredibly strong scales upon their body, allowing them to take a lot of punishment, and survive harsh climates. Most Rakumon prefer a desert-like climate. Rakumon are generally non-confrontational digimon, and prefer the path of least resistance. Though, in the event they are thrown into a a battle, they will become fierce and determined. Rakumon are a master of fire breath techniques, and using the sharp, bony parts of their body to attack. 
Attacks

Blaze Blast  - Rakumon unleashes a trio of small, but explosive, fireballs into the enemy. 
Power Hook  - Charging his claws with a hot energy, Rakumon dives forward, striking an enemy with them.
Spear Tail  - Rakumon attacks an enemy with his tail.
General Info Bits
Rakumon loves food. So much so, he is almost always eating. His favorite type of food is spicy.
Rakumon is completely unaffected by heat, so much so that he actually enjoys ridiculous hot temperatures. 
Rakumon's claws are quite flexible, and can work as overly long fingers. He is able to bend them slightly, allowing for an okay grip on some things. He can't really do a lot of careful work, with them, however.
Rakumon's tongue is a dark, grayish-purple, in all his forms.
---
 General Information 
Name Pronunciation
Drayk-mahn
Name Origin
Drake - a type of dragon.
Level
Champion(Adult)
Attribute
Vaccine
Type 
Dragon
Field
Dragon's Roar
Length
16'
Weight
770lbs
Evolution Line
Marmon > Rakumon > Drakemon > ? >? 
››››››››››››››››››››››››››››››››››››››››››››››››››››››››››››››››››

Personality
Drakemon isn't too much different from his previous form, however now, he has more of a fighting spirit, and a stronger sense of pride. There's a certain fierceness about him that is awakened upon his first evolution, and remains in his higher forms. Drakemon is stronger, faster, and generally better at combat, and he knows it. He can get a bit on the cocky side, but usually keeps himself well maintained, keeping the same, general, level head that he had as Rakumon. As Drakemon, he is not lazy in the least, but still retains his hearty appetite. 
Profile Information
Drakemon are powerful, dragon type digimon that can be fierce in battle. Portions of their body are covered in a thick, bone material that makes them quite defensive, but it is heavy, so it weighs them down a bit. Due to their extreme weight, even though they have wings, Drakemon are not very good at flying, especially long distances. Their wings grow tired quickly in attempts to support their weight. Drakemon has fire-like abilities, as well as a powerful blade on the edge of their tail, making them able to tear through most opponents with ease. Their bulk makes them quite effective against larger enemies, especially. 
Drakemon are able to stand on their hind legs, and walk like that. Though they are much more controlled on all fours.  Drakemon have a number of claw attacks, and are quite skilled at general fighting.
Attacks

Flare Burst: Drakemon releases a bronze-colored stream of flames from his mouth.
Wyvern Rush: Coating any part of his body in energy(claws, horns, body, etc), Drakemon rams into a target with incredible power.  
Butcher Blade: Drakemon slices an enemy in two with his powerful tail-blade.  
General Info Bits
Drakemon takes pride in his abilities, and feels genuinely insulted if someone insults it.
Drakemon dislikes flying, as it exhausts him quickly, due to his weight.
Drakemon can carry up to two people comfortably on his back. Comfortably for him. Anyone riding on his back has to sit on his hard bone plates, which are anything but.