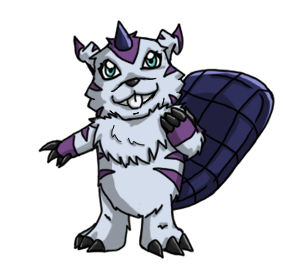 General Information 
Name Pronunciation
Mee-soo-mahn
Name Origin
Misu - A Native-American name meaning 'little water'. 
Level
Rookie(Child)
Attribute
Data
Type 
Aquatic Mammal
Field
Deep Savers
Height
1'9"
Weight
15lbs
Human Partner
Maia
Evolution Line
Tsumon > Misumon > ? > ? > ?
››››››››››››››››››››››››››››››››››››››››››››››››››››››››››››››››››

Personality
Misumon is a laid-back digimon, preferring to tackles challenges as they come, and would prefer to avoid conflict overall. Though, she is far from a hater of combat, in fact, she gets fired up pretty easily. She does her best not to get a big head, knowing that she has her limits, though, she talks big a lot. Her reasons for this are normally to agitate her enemies. She's a smart digimon that will exploit her enemies weaknesses any way she can. 
Misumon is extremely sarcastic, and drops a bit of snark at any possible opportunities. She uses it as a round-about way to show someone they annoy her, or are otherwise being ridiculous. Misumon may come off as harsh at times, but she has everyone's best interests at heart.  The little beaver has  a strong desire to keep those around her safe, and is fiercely protective, especially of Maia, but isn't above snapping at them if they act foolishly. She does have a bit of a temper, but usually does a pretty good job of keeping it in check. 
She also is very adamant in trying to get Maia to relax a little bit.  She's also a strong believer in female power, and will frequently remind Maia that they need to prove their womanhood by being 'awesome'. 
Profile Information
Misumon are digimon of the water. They feel best when they are in their own element, and are highly skilled swimmers. Misumon, though small, are often known to be full of spirit, and some, even attitude. Misumon are extremely devoted and caring little digimon that act as supportive as they possibly can. Misumon are generally social creatures, and aren't exactly born fighters. Though their strong spirits and determination make up for their lack of prowess, and they do have a number of water-related skills they can employ against their enemies. 
Attacks

Sprinkler Jet  - Misumon takes in a deep breath, and fires off a small stream of high-pressure water. 
Bubble Slam  - Misumon releases bubbles from her mouth, that surround her body, and she flies at an enemy, slamming into them.
Tail Slap - Spinning once in the air, Misumon brings her tail down on an enemy's skull or face with extreme force. 
General Info Bits
Misumon tends to use a lot of sarcasm, but most of her rantings have a meaning behind them. 
Misumon loves water.
Misumon has a tendency to be lazy, and often opts to sit on the kids' shoulders, or other digimon's heads, in order to avoid walking. 
Misumon's teeth are incredible strong, and she can gnaw through wood with little effort.
Misumon frequently slaps people(mostly digimon) with her tail when she's angry. It's not as strong as her Tail Slap attack, unless she's really mad. 
Misumon seems to treat Agumon as the scum of the digital world, and frequently insults them, even if they aren't present. 
Misumon seems to have a strong desire to prove that females are the stronger sex(even if she technically doesn't have a gender).
Misumon is actually a herbivore, and will not eat any sort of meat, including fish. She has a preference for fruits.
Misumon is from Aquaria, as mentioned early on.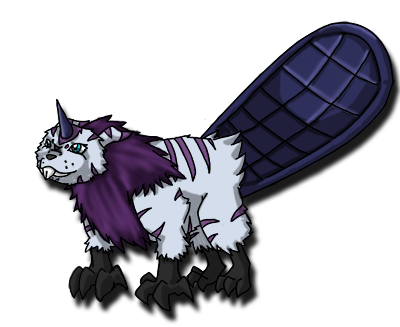 General Information 
Name Pronunciation
Cas-tor-ee-mahn
Name Origin
Castori - From 'castoridae', which is the scientific, family term for beavers.
Level
Champion(Adult)
Attribute
Data
Type 
Aquatic Mammal
Field
Deep Savers
Height
10'11"
Weight
240lbs
Evolution Line
Tsumon > Misumon > Castorimon > ? > ?
››››››››››››››››››››››››››››››››››››››››››››››››››››››››››››››››››

Personality
Castorimon is like her smaller self, except now with power. She is confident, some would say over confident. She wouldn't outwardly deny that, but her confidence is well-founded in both herself and her partner. She still approaches enemies with caution, but with her new abilities, she believes that she is able to take on nearly anything, so long as her partner is there to back her up. She's noticeably more of a smart-alec with her enemies, and will actively insult or taunt them. 
Profile Information
Castoimon are incredibly swift swimmers, able to navigate the water with ease, as water glides over their soft fur. Their large tails pack an incredible punch, and can uproot a tree. Their control over water is incredible, and the digimon can form water pools with a few waves of their paws, or shoot a powerful blast of water from their mouths. Their large bodies also pack quite a lot of punch. Castorimon are made for endurance, and brutish strength, but their defense isn't incredible, leading them to be injured easily enough, but with their natural determination and endurance, they can still take a fair few hits.
Attacks

Aqua Whirl  - Moving her arms before her, Castorimon creates a whirlpool, which sucks in or strikes an enemy with extreme force, cutting them, with the speed of the water. This is far more effective while in water.
Hydro Stream  - Castorimon fires a high-pressure blast of water from her mouth.
Tail Crush - Castorimon slams the enemy with her tail.
General Info Bits
Castorimon is largely more confident in this form, namely because her achieving it was a major step for both her and Maia in their partnership.
Castorimon will bite her enemies, which really hurts, but she refuses to eat anything meaty.