IMPORTANT TERMS_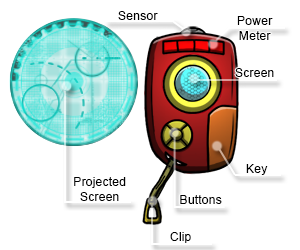 D-HUB
The D-Hub is the digivice used by the Keepers in Digimon :: Core. The digivice is a central source of information, and even more can be downloaded into the digivice, via defeat of enemies, scanning, or additive hardware, such as the Keys. The D-Hub is said to be alive, in some sense, and is able to understand emotional queues, in order to fulfill the desires of its holders(not limited to Keepers), such as evolution, or Sync Mode. It has been referred to as a 'wish-maker'.
  The digivice has a number of features, including an extensive, constantly-updating database of information, including digimon profiles, area maps, and a number of explanations for the various happenings in the digital world. It also includes a power-meter, which gauges a digimon's remaining energy, a quintet of buttons that allows a user to navigate the database, and preform specific functions, such as downloading digimon data for quicker formatting, jump-starting evolution, downloading information to create maps in a three-mile radius, and displaying information about a targeted digimon. 
The digivice projects a 3D screen when in use, magnifying it's size, making it easier to navigate.  The screen projects exactly what is happening on-screen and is brought up via any touch of a button, or automatically in certain cases. 
KEEPERS


'Keeper', or 'Keepers of the Cores', is a term used to describe the humans chosen to defend the Digital World. The Keepers, even if they are not aware, all know the location of Cores, located throughout the Digital World. 
KEYS 


The Keys, which are molded after USB Keys, serve as a medium to achieve 'Key Evolution', are a special piece of hardware that can be attached to the D-Hub. Their purpose is not yet clear.
EVOLUTION
Evolution is a way digimon attain a stronger level, thus able to combat stronger enemies more effectively. There are a number of levels, which evolutions leads to. Each evolution is stronger than the next, and change both the form and the abilities of a digimon. There are a number of ways to evolve, some of which are listed here. (More will be listed as the story progresses)
NATURAL EVOLUTION

Many digimon around the digital world are not initially in their Rookie stage. Many of them are at a higher level. They have attained this level by years of training, fighting, and general surviving. Digimon can attain evolution on their own, if they have enough training. Some digimon, newer to this mode of evolution, can attain this for a set amount of time, similar to how the D-Hub allows for Digimon to evolve. It isn't nearly as stable, however. If a digimon has been able to evolve for many years, they are able to keep that form indefinitely.

HUB EVOLUTION

Activated by the D-Hub, Hub evolution is pretty basic. It acts upon a bond or a strong emotion between a human and digimon, or alternately, simply strong emotions. Hub Evolution can be activated by anyone in a posession of a D-Hub, and lasts for a set amount of time, until the digimon either suffers too much damage, or loses energy. 
Data in this world makes up all digimon. After a digimon is defeated, his data breaks apart into thousands of particles that flow off into the sky above. There, the data pools with other data, from other defeated digimon, destroyed portions of the digital world, etc, before it all mixes together. After it mixes together, it separates, going to different parts of the digital world. Upon its arrival, the data forms a number of Digital Eggs, or land-masses, such as rocks, trees, etc. This does mean new digimon come from old data, after it's been formatted, but they almost never retain any memories of their past lives, nor do they even keep the same form they had. Their data is dispersed randomly, so one digimon could essentially make up parts of twenty different digimon.
Data can also be absorbed by a D-Hub, and goes through the format-recreation process at a much faster rate.  The data can also be manipulated to make a digimon stronger, and if enough was absorbed, can even reproduce the attacks of the defeated digimon. 
---
 LOCATIONS (DIGITAL WORLD)_
Below is a list of locations the Keepers have visited, or otherwise important locations. They will be more filled out, and the number of them will increase as the story progresses.
ANFANG FOREST
A luscious forest that is full of green and blue-hued trees, and a number of wild digimon, Anfang Forest is quite a dangerous place. The climate seems pretty average, cooler at night than during the day. The forest is quite expansive, and it's unclear just how large it really is. The location of the forest is a place of question, as none of the digimon recognize it, and assume it to be located somewhere in the far-eastern region of the Digital World, which is less explored.