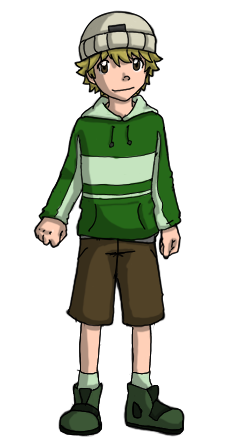 General Information 
Nickname(s) 
Huey, Hue
Age
11
Grade 
5th
Gender
Male
Birthday 
May 31st(Gemini)
Hair Color
Sandy-blonde/dirty-blonde
Eye Color
Brown/Chocolate
Height
4'11"
Weight
99lbs
Digimon Partner
Bazamon
››››››››››››››››››››››››››››››››››››››››››››››››››››››››››››››››››

Personality
Huey, at first glance, comes off as quite a sweet, innocent little kid. He can be, when he puts a bit of effort behind it. He's normally polite to most people, but he also won't hide his feelings of dislike for something either. Though, he does have enough sense to know when to hold his tongue, and simply accept what's happening. Huey is quite observant, and smart for such a young boy, but he is also naive in a lot of ways. He is overly curious, and often asks a lot of questions. He adores sports, especially soccer, and if he has free time, he'll usually practice. 
Huey has a nasty habit of growing to expect lots of attention from people. This is primarily caused by his parent's large focus on the boy, as he was their first child together.  Maia also is sure to take extra care of the boy, which at times, Huey does welcome. He usually feels safe around her, but she also tends to take it overboard, especially in his mind. He feels a lack of personal space and freedom, sometimes though, particularity from Maia. He is not above taking advantage of the girl's kindness, and frequently whines, simply to get what he wants. 
Huey is rather spoiled. He won't do things that he doesn't find enjoyable, even if they are necessary. He can be easily bored with adult-things, and usually prefers to voice his displeasure. He will whine, if he's bored enough.
Huey, in short, is a youthful, curious spirit, who can be a nice kid if he puts his mind to it. He seeks attention and approval in a number of ways, and can be quite selfish, and childish, when things don't go his way.  
Family Information
Huey lives in a well-off family, alongside his sister, Maia, his mother and father. His mother is secretary for a law firm, while his father is a successful doctor. Huey, more unlike his sister, gets along really well with his family. Though a lot of that is attributed to the fact that they do tend to spoil him quite a lot, particularly his father.
The fact Huey doesn't get to see a whole lot of his family has always been a sore point for the boy. He looks up to his father, incredibly, and even talks about maybe being a doctor when he grows up. His father often sets time aside, just to make sure Huey gets appropriate 'father time'. He has lead Huey into a vast interest with sports, especially soccer. Since his father apparently played it in his youth, Huey has taken it upon himself to also play it--and he's quite skilled at it.  
Huey's mother also expects quite  a lot out of him, like she does Maia, but Huey is far less confrontational over things with her. Huey tends to like her cooking, and whenever she bakes cookies especially, which sadly isn't often. Though, his all-time favorite, cooking relative is Grandma Allen(on his mother's side). Huey frequently claims he would 'die for her cookies'. 
Overall, Huey gets along quite well with his family, though he does take advantage of the kindness they offer at times. He is far more akin to taking advantage of his sister. Even though he does like the attention she gives him, at times, it gets old to him quickly, and he frequently pushes her away.  
General Info Bits 
Huey loathes his first name, and insists to go by Huey. The use of it is embarassing in his mind.
Huey still thinks girls have cooties.
Huey frquently tells Tyson that he wishes he was his big brother, instead of Maia. Though this is between him and Tyson.
Huey adores sweets, and eats them constantly. Probably the only reason he isn't a chubby little boy is because he plays a lot of soccer, and other sports, and so keeps himself well fit. 
Huey's favorite holiday, is of course, Halloween. He dresses up every year, and never misses getting himself buckets full of candy.